Metro Wireless is offering up to Gigabit speeds over the air with a 99.99% SLA and the fastest installations in the business!
• 99.99% Up time SLA
• Faster Installs
• Includes Managed Router
• Great for Primary or Backup Connections
Installing fiber to the premise can take up to 180 days or greater depending on local permits, landlord requirements or other factors.
Metro Wireless is offering the fastest and most reliable Gigabit Wireless installations in town; if you need super high-speeds look no further.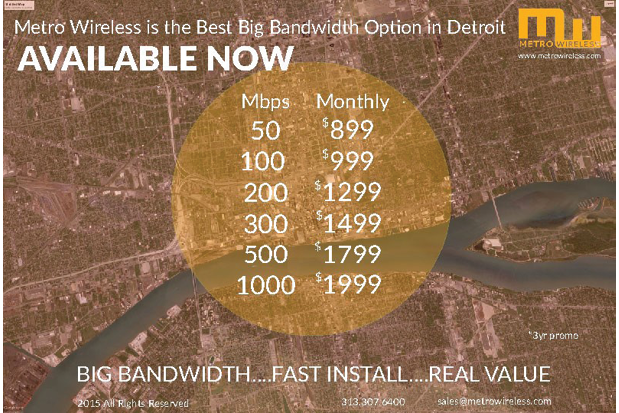 INSTALLS IN 30 DAYS
OR THE FIRST MONTH IS FREE!!!*
* 30 day install guarantee assumes customer has already secured roof access for Metro Wireless installation. Special build out and/or construction requirements may limit this offer and require longer time lines. Metro Wireless reserves the right to cancel or modify this promotion due to unforeseen circumstances within reason. All pricing and time lines are based on 36mo customer commitment.